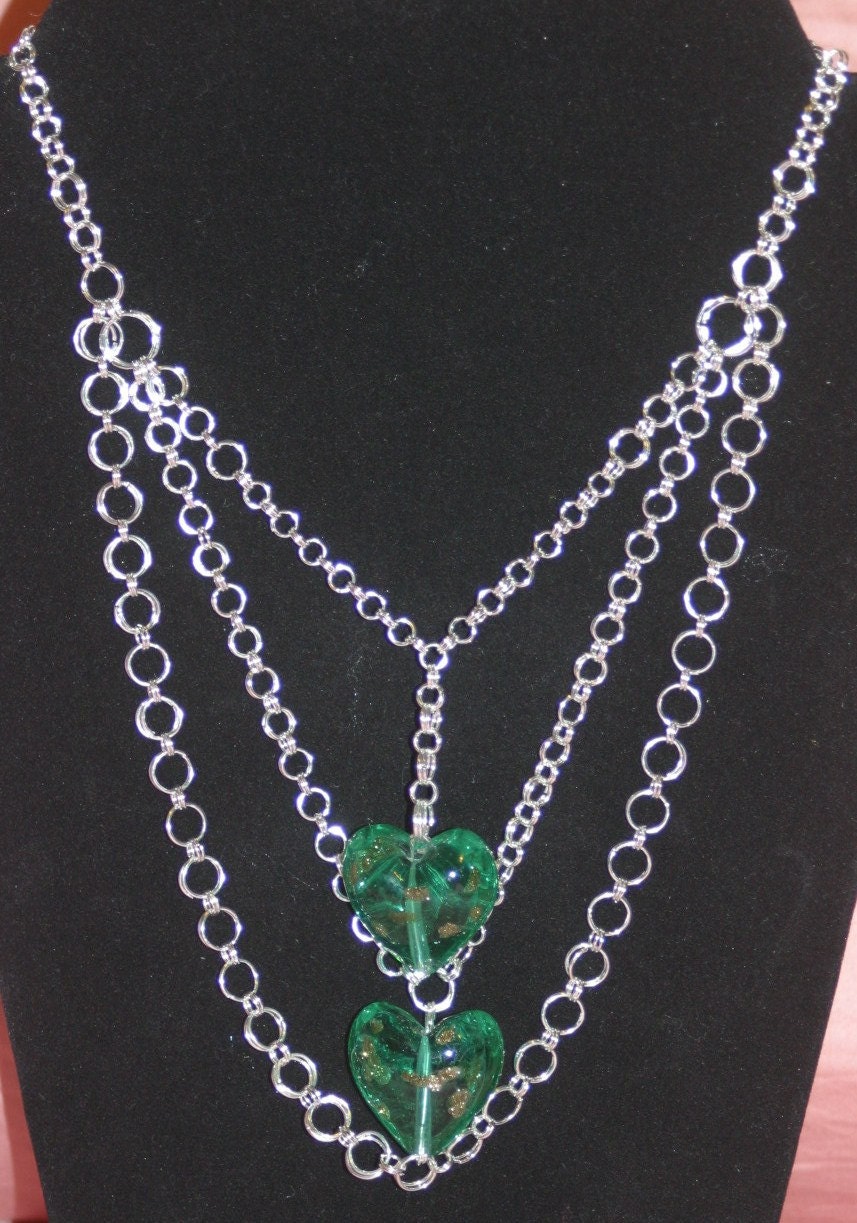 Two hearts, together forever.

Aqua-colored glass hearts with golden flecks hang from hand-linked silver plated chain with bar-and-ring toggle clasp. Measures approximately 16" around the neckline. Comes in a black leatherette necklace folder with white exterior box for storage or gift giving.
Shipping from United States
Our posted rates are for first class domestic & international postal service. If you would like your order to ship faster or via a different method, please contact us directly for more information. Please note: for international orders, some countries may impose duties/tax/customs fees. These fees are the customer's responsibility so please be aware of your country's policies before ordering. All declaration forms will be filled out by us with true and accurate information as to the purchased item and its value. This website may be able to give you some idea what to expect, but if you are unsure, check with your local postal service. http://www.dutycalculator.com/new-import-duty-and-tax-calculation/
Refunds
All items except pierced earrings* may be returned within 30 days for a full refund. After 30 days we will only refund or replace items returned due to defect in materials or workmanship**, which shall not include normal minor variations due to the handmade nature of items (including but not limited to variation in metal texture, patina, or size within reasonable limits) or in items made from natural material (including but not limited to color or texture of organic materials such as wood, shell, pearl, or color of stones within normal range). Customer is responsible for cost of shipping any return that is not defective in material or workmanship; if an item is defective we will refund your cost of shipping (ground shipping only).

*For pierced earrings, please contact us as soon as possible if you don't like them. Full refund will only be given if we are contacted within 7 days of receipt. If you contact us more than 7 days after receipt, except in cases of defect in material or workmanship, we will assume earrings have been worn and refund purchase price minus our most recent actual cost of material for post/wire (varies depending on material).

**We can tell if something has been broken deliberately or due to forces other than normal wear.

Additional
Custom orders are welcome! If you see something you like here but would like a different color or size, or different material (such as solid gold or sterling in place of plated/filled, or different gemstones / genuine gemstones in place of imitation or synthetic such as with our birthstone earrings), let us know. We can also create wholly original designs on request. A deposit may be required for custom items. Please contact us for more information.